When Leo wants to impress Janelle by beating school bully Trent in basketball, Chase lends him Mr.Davenports anti-gravaty boots. But when Trent steals the shoes, can Leo still win the game. Meanwhile Bree and Adam compete for a spot on the cheer leading squad. Adam wins, but when Stephanie makes fun of Bree, Adam quits, and him and Bree make their own cheer and ashame Stephanie and the cheerleaders out of the court.
Billy Unger
as
Chase Davenport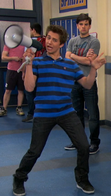 Spencer Boldman as Adam Davenport
Kelli Berglund as Bree Davenport
Tyrel Jackson Williams as Leo Dooley (or for this episode only, Dunkin' Dooley)
Madison Pettis as Janelle
Eddie Perino as Trent
Gorge Loomis as Tommy
Ad blocker interference detected!
Wikia is a free-to-use site that makes money from advertising. We have a modified experience for viewers using ad blockers

Wikia is not accessible if you've made further modifications. Remove the custom ad blocker rule(s) and the page will load as expected.