When Adam, Bree and Chase forget to invite Leo to his surprise birthday party, they must make it up to him, so they take Leo into the ultra-cool virtual mission simulator and show him what it's like to be bionic.
Billy Unger as Chase Davenport
Spencer Boldman as Adam Davenport
Kelli Berglund as Bree Davenport
Tyrel Jackson Williams as Leo Dooley
Hal Sparks as Donald Davenport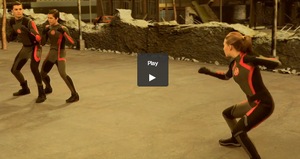 Angel Parker as Tasha Davenport
Will Forte as the voice of Eddy
Erin Unger as Glitter Head
To view the Bionic Birthday Fail gallery, click here
Ad blocker interference detected!
Wikia is a free-to-use site that makes money from advertising. We have a modified experience for viewers using ad blockers

Wikia is not accessible if you've made further modifications. Remove the custom ad blocker rule(s) and the page will load as expected.