When Chase refuses to admit that Adam has good ideas, Adam decides to run against him for student of the semester. Meanwhile, Leo takes advantage of Bree's super speed and starts using her as his personal taxi.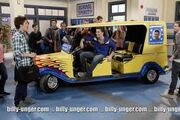 Spencer Boldman as Adam Davenport
Kelli Berglund as Bree Davenport
Tyrel Jackson Williams as Leo Dooley
Garrett Backstrom as Ethan
To view the Smart and Smarter gallery click here
Ad blocker interference detected!
Wikia is a free-to-use site that makes money from advertising. We have a modified experience for viewers using ad blockers

Wikia is not accessible if you've made further modifications. Remove the custom ad blocker rule(s) and the page will load as expected.